Antiga Casa Figueras-Passtiseria Escribà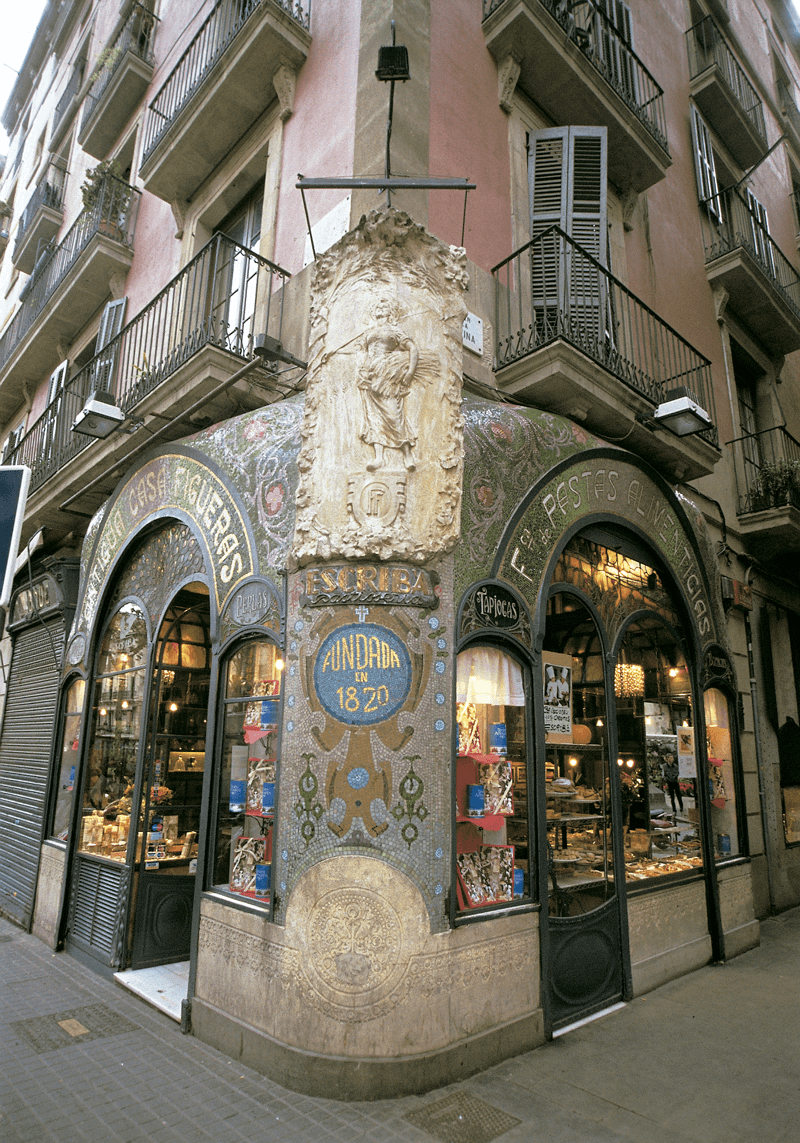 In 1902 Jaume Figueras commissioned Antoni Ros, a painter and scenic artist, to decorate his shop, which manufactured and sold pasta. A whole team of artists worked with Ros, including the sculptor Lambert Escaler, the glaziers Rigalt & Granell and Mario Maragliano for the mosaics. The façade is a magnificent example of the integration of the different decorative arts, with its diversity of volumes and finishes: stone, symbolist sculptural relief, mosaics, leaded windows and wrought-iron. In 1986 the shop was taken over and restored by the reputed Escribà bakers.
Currently Pastisseria Escribà, a cake shop with an elaborate Modernista decoration by Antoni Ros i Güell (1902), with an abundance of mosaics, stucco, wrought iron, stained glass and wooden furniture in chocolate colour.
Actions on Modernista Heritage City Council Programme Barcelona, posa't guapa (Barcelona, get pretty)
Restoration of exterior façades.
Get the Guidebook of Barcelona Modernisme Route
The Barcelona Modernisme Route is an itinerary through the Barcelona of Gaudí, Domènech i Montaner and Puig i Cadafalch, who, together with other architects, made Barcelona the great capital of Catalan Art Nouveau. With this route you can discover impressive palaces, amazing houses, the temple that is symbol of the city and an immense hospital, as well as more popular and everyday works such as pharmacies, shops, shops, lanterns or banks. Modernisme works that show that Art Nouveau took root in Barcelona and even today is still a living art, a lived art.

The Guidebook of Barcelona Modernisme Route can be acquired in our centers of Modernisme.

<!– #main-content –>