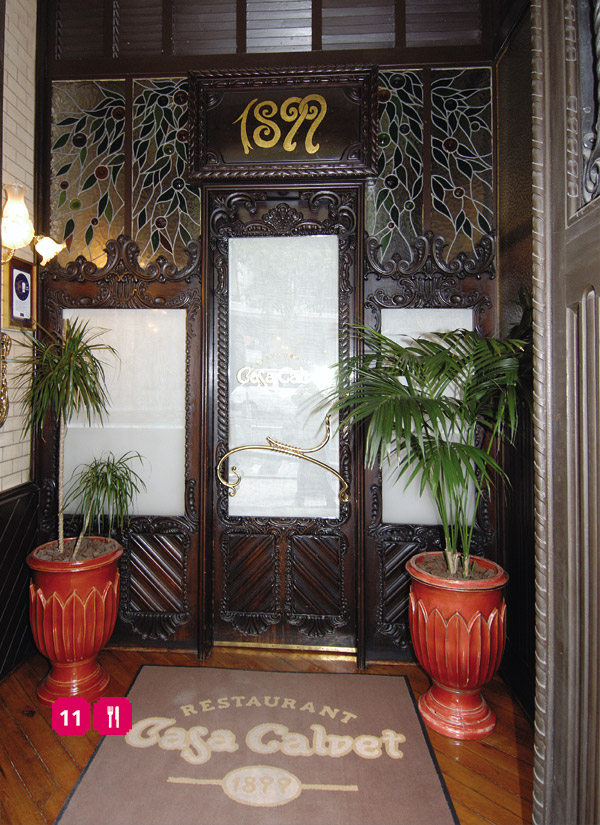 By Antoni Gaudí. Casa Calvet (1898-1899) was the first residential building by the brilliant architect in the Eixample, and with it he started a line that was followed by many houses that also used Baroque or Rococo elements such as the undulating forms, the peculiar treatment of the irregular surface of Montjuïc sandstone, the balconies and the bay windows. In Casa Calvet, Gaudí gave a different treatment to each element of the building. The façade features a Baroque bay window with wrought iron railings and reliefs representing different types of fungi in reference to the fact that Eduard Calvet, the first owner of the building, was an amateur mycologist. The decoration of the bay window includes the coat of arms of Catalonia and a representation of a cypress tree, symbol of hospitality. This is shown in the foyer and the ground floor premises, which have now been transformed into the Casa Calvet Restaurant (tables must be booked in advance: phone 934 124 012. For further information see Let's Go Out, the guide to Modernista bars and restaurants). The restaurant has conserved the original furniture of Calvet's office, from which he ran his textile emporium. Interesting features are the lamps, the benches in the reception room and the courtesy benches against the wall, the wood partitions that separated the offices from the textile store, the door handles and the beams of the ceiling.
Actions on Modernista Heritage City Council Programme Barcelona, posa't guapa (Barcelona, get pretty)
Restoration of façades, balconies and carpentry (blinds).
Restoration of façades.
Improvement of hygienic conditions.
Timetable
Opening times: from 1 p.m. to 3.30 p.m. and from 8.30 p.m. to 11 p.m.
More information
Tel.: 93 412 40 12
www.casacalvet.es
Tables must be booked in advance.
Get the Guidebook of Barcelona Modernisme Route
The Barcelona Modernisme Route is an itinerary through the Barcelona of Gaudí, Domènech i Montaner and Puig i Cadafalch, who, together with other architects, made Barcelona the great capital of Catalan Art Nouveau. With this route you can discover impressive palaces, amazing houses, the temple that is symbol of the city and an immense hospital, as well as more popular and everyday works such as pharmacies, shops, shops, lanterns or banks. Modernisme works that show that Art Nouveau took root in Barcelona and even today is still a living art, a lived art.

The Guidebook of Barcelona Modernisme Route can be acquired in our centers of Modernisme.

<!– #main-content –>