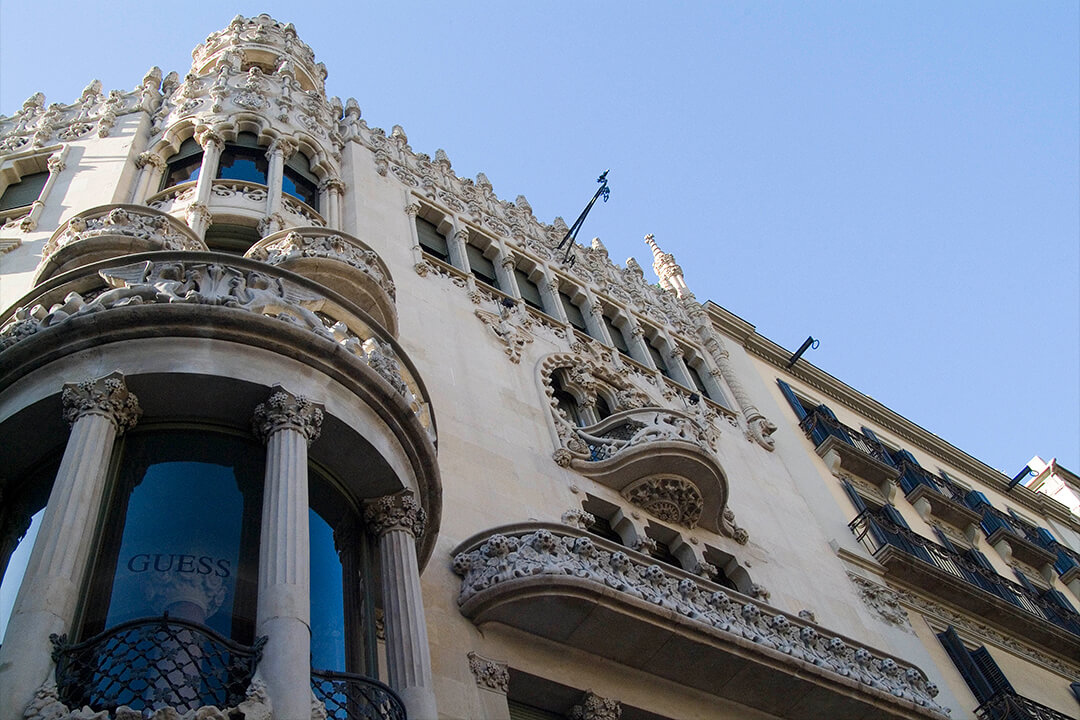 Guided tours: www.casalleomorera.com . In 1905, Lluís Domènech i Montaner converted this house built in 1864 by the Sociedad Fomento del Ensanche in order to improve it and redecorate it for its new owners, the Lleo Morera family. The most Renaissance-influenced architect of Modernisme in Barcelona combined in Casa Lleó Morera -a small and even modest work- the creative effort of a considerable number of artists and craftsmen who worked in close collaboration to achieve a surprising, almost miraculous result in the purest Domènech i Montaner floral style. From the foyer to the staircase, the lift and the piano nobile, the Casa Lleó Morera is one of the richest and best preserved examples of applied arts in the Modernista style, featuring mosaics, stained glass, marquetry, paving and sculptures. The main feature of the house is precisely one of the great surprises of Modernisme in Barcelona: a monumental stained glass window by Antoni Rigalt that occupies the former main dining room of the house and represents a bucolic rural scene (see photo on page 25). The same room has eight panels of ceramic work with porcelain figures in relief and lintels in which Eusebi Arnau sculpted a Provençal legend, La dida de l'Infant Rei (The Child King's Nanny). On the façade his sculptural work was also spectacular, but the female figures on the arches of the ground floor were mutilated in the 1940s when the sculptures and the remaining ornamental details were destroyed to allow new shop windows to be fitted. This was partially restored in 1992 thanks to photographs and documents. In the MNAC (34) you can see elements of interior decor of the main floor such as furniture, lamps and carpets designed by Gaspar Homar. One of the outstanding exhibits is a huge sofa-cupboard of marquetry work.
Actions on Modernista Heritage City Council Programme Barcelona, posa't guapa (Barcelona, get pretty)
Strengthening and maintenance of façade. 2004
Work on ground floor: rehabilitation in accordance with original appearance. 2012
Timetable
Casa Lleó Morera is closed.
More information
Tel.: 936 762 733 info@casalleomorera.com www.casalleomorera.com
Get the Guidebook of Barcelona Modernisme Route
The Barcelona Modernisme Route is an itinerary through the Barcelona of Gaudí, Domènech i Montaner and Puig i Cadafalch, who, together with other architects, made Barcelona the great capital of Catalan Art Nouveau. With this route you can discover impressive palaces, amazing houses, the temple that is symbol of the city and an immense hospital, as well as more popular and everyday works such as pharmacies, shops, shops, lanterns or banks. Modernisme works that show that Art Nouveau took root in Barcelona and even today is still a living art, a lived art.

The Guidebook of Barcelona Modernisme Route can be acquired in our centers of Modernisme.

<!– #main-content –>