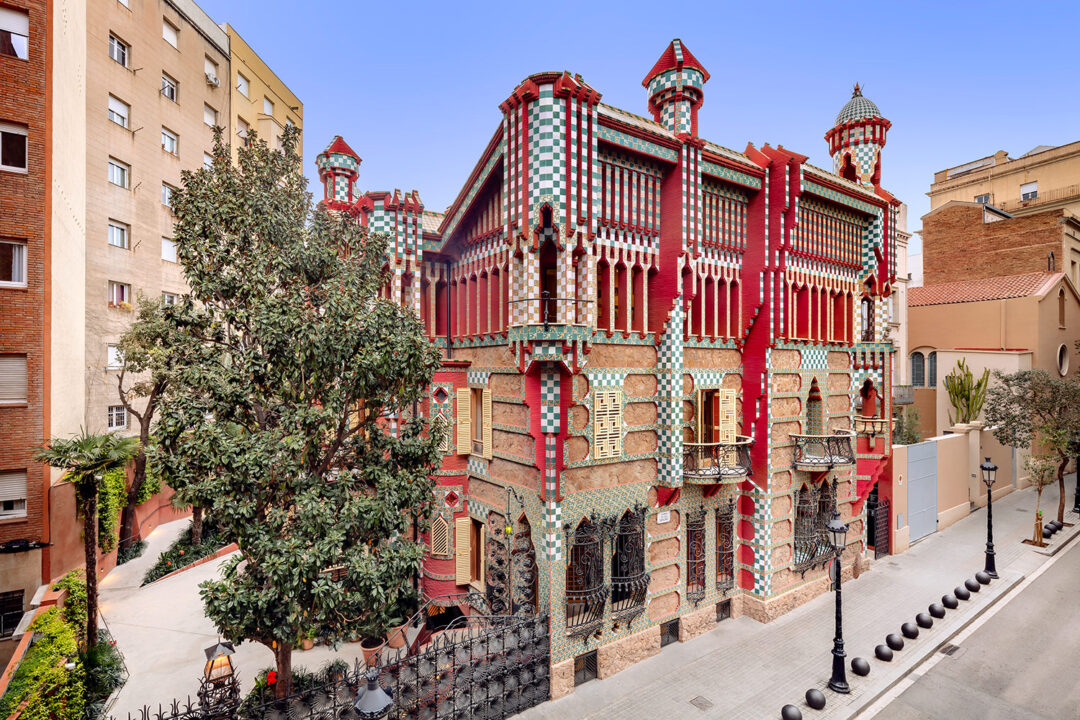 This early work by Gaudí was built between 1883 and 1888 and commissioned by the stockbroker and currency dealer Manuel Vicens as a private residence in the old town of Gràcia. It was Gaudí's first building in Barcelona and in it he managed to display his great talents as an architect.
Gaudí was already showing his main source of inspiration in this building: nature. This is the why its external tiles bear the images of carnations, the yellow flower that Gaudí found when he arrived at the site. Similarly, the home's iron gate reproduced the attractive leaves of the fan palm, a small tree that is native to Catalonia. Gaudí's primary goal in the house was for nature to enter the rooms, which is why it contains constant representations in its trompe-l'oeil, ceilings and sgraffito work.
Casa Vicens reveals Gaudí's many oriental influences in his early period, but it also reflects the traditions of Catalan construction. The smoking room, with its papier-mâché tiles, dining room and layout of the bedrooms are all outstanding elements.
Casa Vicens opened its doors to the public in autumn 2017 after two years of rehabilitation and restoration of Gaudí's work. It is an essential cultural visit for all those interested in learning about the beginnings of Gaudí's architecture. A visit to the house includes admission to a permanent exhibition.
Actions on Modernista Heritage City Council Programme Barcelona, posa't guapa (Barcelona, get pretty)
Restoration of façade, roof and gallery.
Restoration of the façade, bay window and patio (original tiles, sgraffito work and woodwork) and recovery of the bench-balustrade of the bay window.
Timetable
Open every day from 10am to 8pm
Closed days: June 28, December 25 and January 6.
For visits after hours you can write to us at reserves@casavicens.org
Prices and discounts
General admission: €16.
Students aged 12 to 25: €12.
With Modernisme Route guide: 20% off general admission price.
More information
Get the Guidebook of Barcelona Modernisme Route
The Barcelona Modernisme Route is an itinerary that takes you through the Barcelona of Gaudí, Domènech i Montaner and Puig i Cadafalch, the architects who, together with others, made Barcelona the world capital of Modernisme. This Route enables you to get to know thoroughly impressive palatial residences, amazing houses, the temple that has become a symbol of the city and a huge hospital, but it also includes humbler and more everyday buildings and items such as chemists', shops, lampposts and benches - modernist works which show that Art Nouveau put down strong roots in Barcelona and today Modernisme is still an art that is alive and part of life in the city.

The Guidebook of Barcelona Modernisme Route can be acquired in our centers of Modernisme.

<!– #main-content –>