Editorial Montaner i Simon – Fundació Antoni Tàpies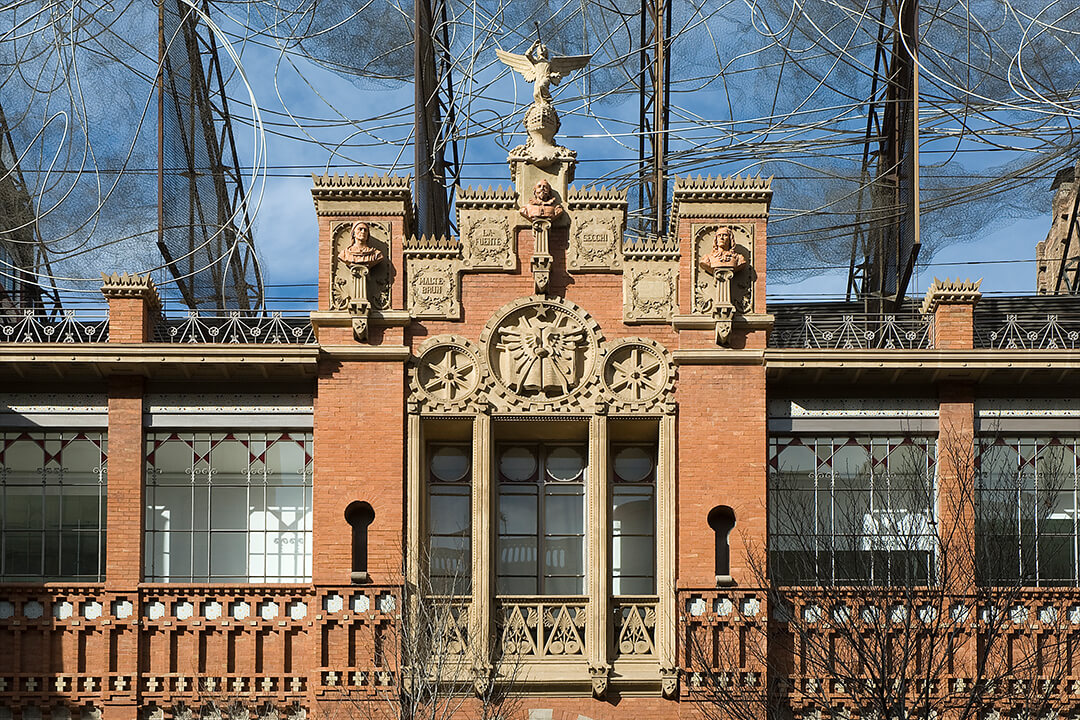 Built by Domènech i Montaner himself from 1880 to 1882, this is one of the pioneering examples of the architectural and urban renovation that was introduced by the Modernista movement, together with Gaudí's Casa Vicens (number (88) of the Modernisme Route). The building features a very unacademic façade with a slightly Mudejar (Moorish) appearance and a peculiar structure with cast iron pillars and steel beams that is more characteristic of markets and railway stations of the of the late 19th century. The building is now crowned by a sculptural work by the great contemporary artist Antoni Tàpies, Núvol i cadira (Cloud and Chair), which has become the emblem of his foundation. The museum exhibits a wide selection of the work of this Catalan artist and holds temporary exhibitions, symposia, conferences and film cycles. It also houses a library specialised in modern and contemporary art, the Tàpies archive with the largest collection of his works and related documents, and collections on Asian and Pre-Columbine arts and culture.
Actions on Modernista Heritage City Council Programme Barcelona, posa't guapa (Barcelona, get pretty)
Cleaning of façade. 2010
Timetable
Thursday, Fridays and Saturdays, from 10am to 7pm.
Sundays from 10am to 3pm.
Prices and discounts
Adults: €8.00.
Children up to 16 years of age: free.
Students and Senior Citizens (over 65): €6.40.
Discount of the Modernisme Route: 20% off the adult price.
More information
Tel.: 934 870 315.
www.fundaciotapies.org
Timetables may change.
Get the Guidebook of Barcelona Modernisme Route
The Barcelona Modernisme Route is an itinerary that takes you through the Barcelona of Gaudí, Domènech i Montaner and Puig i Cadafalch, the architects who, together with others, made Barcelona the world capital of Modernisme. This Route enables you to get to know thoroughly impressive palatial residences, amazing houses, the temple that has become a symbol of the city and a huge hospital, but it also includes humbler and more everyday buildings and items such as chemists', shops, lampposts and benches - modernist works which show that Art Nouveau put down strong roots in Barcelona and today Modernisme is still an art that is alive and part of life in the city.

The Guidebook of Barcelona Modernisme Route can be acquired in our centers of Modernisme.

<!– #main-content –>