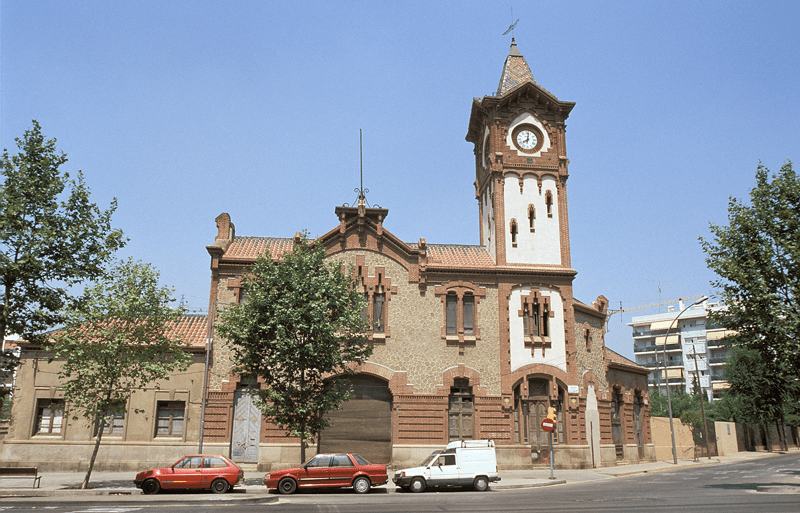 Built by Josep Domènech i Estapà in 1912 for the goods trains travelling to the port and linking with the FGC railway line that runs under Gran Via. The station and the adjoining land have been converted into a sports complex. Not far away, at the end of Carrer Moianès, we come to Carrer de la Creu Coberta, where you may see two fine examples of early Modernisme.
Actions on Modernista Heritage City Council Programme Barcelona, posa't guapa (Barcelona, get pretty)
Restoration of façades.Recovery of the volumetrics of the original building and the roof of the tower, including replacement of the special clock and removal of the added volumes.
Get the Guidebook of Barcelona Modernisme Route
The Barcelona Modernisme Route is an itinerary through the Barcelona of Gaudí, Domènech i Montaner and Puig i Cadafalch, who, together with other architects, made Barcelona the great capital of Catalan Art Nouveau. With this route you can discover impressive palaces, amazing houses, the temple that is symbol of the city and an immense hospital, as well as more popular and everyday works such as pharmacies, shops, shops, lanterns or banks. Modernisme works that show that Art Nouveau took root in Barcelona and even today is still a living art, a lived art.

The Guidebook of Barcelona Modernisme Route can be acquired in our centers of Modernisme.

<!– #main-content –>