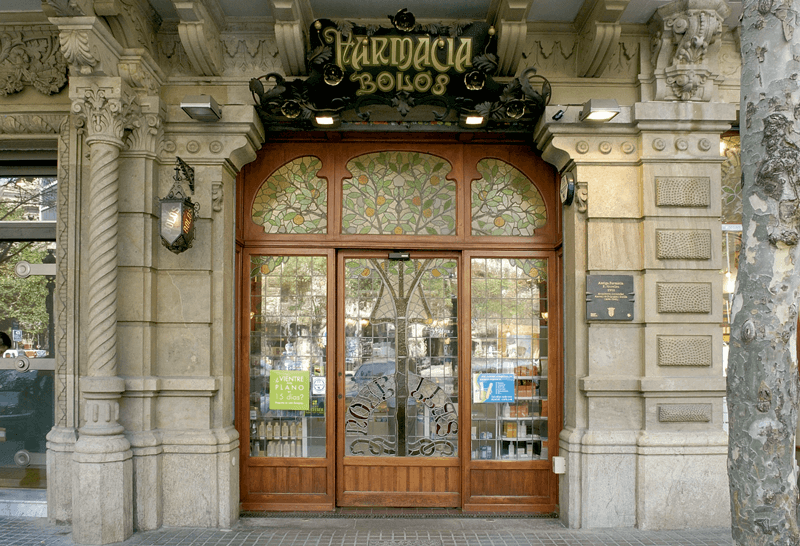 By Josep Domènech i Estapà, built between 1904 and 1910, which still has almost all its original decorative elements: a presumptuous, aristocratic lamp bearing the name of the shop, a stained glass window depicting an orange tree, and furniture, all designed by the great craftsman Antoni Falguera.
Farmàcia Bolós is a chemists' shop situated on the ground floor of a building by Domènech i Estapà. On both the interior and the exterior it still has the original 1902 decoration by Antoni Falguera, according to a design by pharmacist Novelles himself. One of the main features is the main door, with straight lines at the bottom but crowned by a panel of undulating lines and floral motifs. The leaves on the leaded glass door are framed in a rich woodwork, and depict an orange tree together with the name of the former owners. The interior still has the original decoration; display cabinets, stained glass, mural paintings and a collection of pharmaceutical china and pottery containers.
Actions on Modernista Heritage City Council Programme Barcelona, posa't guapa (Barcelona, get pretty)
Refurbishment of signs.
Restoration of shop.
Thermal and acoustic insulation.
Get the Guidebook of Barcelona Modernisme Route
The Barcelona Modernisme Route is an itinerary through the Barcelona of Gaudí, Domènech i Montaner and Puig i Cadafalch, who, together with other architects, made Barcelona the great capital of Catalan Art Nouveau. With this route you can discover impressive palaces, amazing houses, the temple that is symbol of the city and an immense hospital, as well as more popular and everyday works such as pharmacies, shops, shops, lanterns or banks. Modernisme works that show that Art Nouveau took root in Barcelona and even today is still a living art, a lived art.

The Guidebook of Barcelona Modernisme Route can be acquired in our centers of Modernisme.

<!– #main-content –>