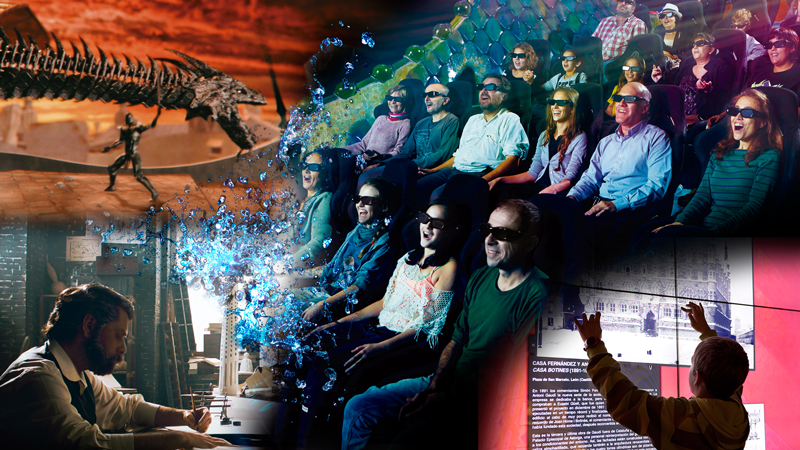 Gaudí Experiència is a new way to learn about Gaudí and his work. Located next to Park Güell, the exhibition takes you on a journey through the universe of the architectural Modernista genius Antoni Gaudí in an interactive experience using 4D technology. A different approach to Gaudí's work based on three main areas: interactive boards for adults and children, models of the architect's work and a 4D audiovisual piece.
"We wanted to imagine how he sought inspiration, how he transformed it, how he lived it, how he produced it and how he went crazy with the results," according to the creators of the 4D audiovisual piece, which has been produced by using the latest technology, including active stereoscopy, allowing for high-quality 3D, motion seats and air and water effects.
But before enjoying the audiovisual piece, visitors can access Gaudí's entire life and work through three interactive boards functioning as large tablets that allow interactivity for several users in 9 languages. The contents of the boards have been produced by a documentalist from the School of Architecture and authenticated by the Gaudí Chair at the Polytechnic University of Catalonia.
Timetable
Daily
From November to March, from 10 a.m. to 5 p.m.
From April to October, from 10 a.m. to 6 p.m.
Last 4D audiovisual pass: 30 minutes before closing
Prices and discounts
From 4 to 6 years free admission (access not allowed to children under 4 years).
Children under 7 to 12 years of age and over 65: €7.50.
Adults (from 13 to 65 years old): €9.00.
Discount of the Modernisme Route: price €7,20 (20% off the general entrance price).
More information
Tel.: (+34) 932 854 440
info@gaudiexperiencia.com
www.gaudiexperiencia.com
Final 4D audiovisual screening 30 minutes before closing time.
Get the Guidebook of Barcelona Modernisme Route
The Barcelona Modernisme Route is an itinerary through the Barcelona of Gaudí, Domènech i Montaner and Puig i Cadafalch, who, together with other architects, made Barcelona the great capital of Catalan Art Nouveau. With this route you can discover impressive palaces, amazing houses, the temple that is symbol of the city and an immense hospital, as well as more popular and everyday works such as pharmacies, shops, shops, lanterns or banks. Modernisme works that show that Art Nouveau took root in Barcelona and even today is still a living art, a lived art.

The Guidebook of Barcelona Modernisme Route can be acquired in our centers of Modernisme.

<!– #main-content –>