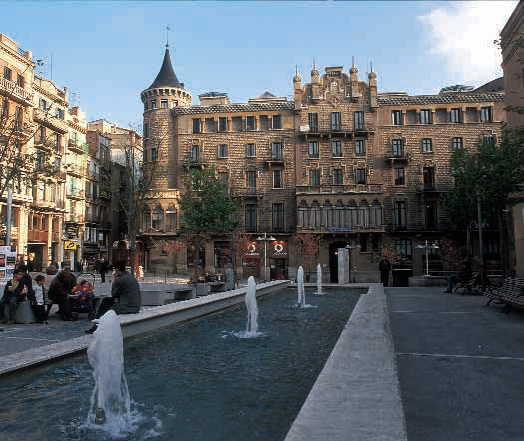 During the 19th century, Manresa, like other small towns and villages along the rivers Llobregat and Cardener, grew into an industrial town. The first textile factories appeared and, as a result, the first lineages of businessmen. The town was transformed. The last of the walls around it were pulled down and much wider streets were built. Passeig Pere III, opened during the 19th century, became the favourite residential avenue of the new bourgeoisie. The industrialists who had made their fortune thanks to the textile mills, had houses built there that followed the Modernista aesthetics. Most of these buildings were designed by local architects who took their cue from the dominant trend in Barcelona. Of these, two in particular stood out: Ignasi Oms i Ponsa and Alexandre Soler i March. Ignasi Oms is regarded as the foremost representative of Modernisme in Manresa. He worked with Domènech i Montaner and for many years was the municipal architect. Manresa is full of his buildings and there is even a street named after him, which contains four of his works. Like Ignasi Oms, Alexandre Soler trained in Barcelona and was also disciple of Domènech i Montaner. One of the most important works for which he was responsible was the extension of Santa Clara Convent.
Modernista Route
The Modernista route is centred mainly on the area of Plaça Sant Domènec, Passeig Pere III and Carrer del Born.
Farmàcia Esteve (1926) and Quiosc de l'Arpa (1917)
These are clear examples of Modernisme as applied to shops and urban furniture. They were designed by the architect Josep Firmat. It is worth noting the stained glass windows and the wood and wrought iron sculptures of the chemists'.
Sastreria Tuneu
This tailors' shop still boasts the Modernista signs designed by the painter Francesc Cuixart in 1906.
Casa Torrents or Buresa
This building was designed by Ignasi Oms in 1905, a commission by one of the wealthiest families of the time, the Torrents. It is a re-creation of a palatial house in Neo-Gothic style with four storeys and a tower on either side of it. A central body juts out of the façade with a large enclosed balcony on the first floor and four pinnacles and an image of the Holy Family, a typical feature of many Modernista buildings, at the top. Some of the rooms still retain their luxurious Modernista decoration.
Casal Regionalista
Designed by Alexandre Soler in 1918. With its sober, regular style it moves away from the Modernista postulates and closer to those of the movement known as Noucentisme.
Casino
Situated right in the middle of Passeig Pere III, it is the main Modernista building in Manresa. Designed by Ignasi Oms, it was constructed in 1906. It was known as El Casino dels senyors (the Gentlemen's Casino) as it functioned as a social club and gambling place for the well-to-do of the time. The Casino closed during the sixties and the building went into a period of decline. Later on, however, it was bought by the local authority and today houses a public library and a cultural centre. The Casino is a transitional work on the way to fully-fledged Modernisme. The façade has a classical structure, although it also contains Modernista elements such as the windows, balconies and ornamental motifs. Some of the rooms inside it, now used as reading rooms, still have their original stained glass windows and extremely rich ornamentation.
Casa Lluvià
Designed by Ignasi Oms in 1908, it is regarded as the purest example of Modernista architecture in Manresa. Unlike the Casino, Casa Lluvià moves away from classicism and here the architect combines a central body with two towers of different proportions and heights. The façade retains its typically Modernista ornamentation while the interior of the building has also kept some Modernista elements such as the stone columns with naïf-style reliefs and paintings. It is currently home to the Bages i Berguedà Architects' Association.
Casa Torra
Designed by Ignasi Oms in 1910, it stands out because it succeeds in the idea of a detached house that is nevertheless perfectly integrated into the urban space.
Casa Gabernet Espanyol
Designed by Ignasi Oms in 1898. This is an example of historicist Modernisme combining Gothic and Romanesque elements.
Casa Padró
This building was designed in 1918 by Bernat Pejoan and stands on a corner of Passeig Pere III. It now contains shops.
Casa Padró Domènech
Designed by Ignasi Oms in 1903.
Col·legi Asil dels Infants
Designed by Ignasi Oms and built between 1901 and 1911 it falls within the realm of historicist Modernisme.
Casa Armengou
Designed by Ignasi Oms in 1889. It is a mixture of eclectic and Modernista styles.
Institut Lluís de Peguera
Designed by Alexandre Soler. It is regarded as belonging to the Modernista style in transition towards Noucentisme. Work on it began in 1907, but it was not completed until 1927.
Convent de Santa Clara
This is a building of medieval origin and it still has a Romanesque doorway. In 1904 the architect Alexandre Soler designed an extension to the building drawing his inspiration from the Gothic.
Oficina de Turisme de Manresa. Ajuntament de Manresa
(Manresa Tourist Office. Manresa City Council)
How to get there
By train: RENFE and FGC, both leaving from Palaça Catalunya.
By bus: Monbús www.monbus.es
By car: road C-58 to Terrassa, then C-16 or C-55 to Manresa.
Timetable
From Tuesday to Saturday, please book in advance http://www.manresaturisme.cat/cat/menu/6250-manresa-cor-de-catalunya
Closed on 1 January and 25 December.
Reduced prices for groups. If you prefer to walk the visit on your own,the Tourist Office gives out free maps of Manresa's Modernisme.
The Tourist Office has a service of guides to retrace the Modernisme Route.
Prices and discounts
Check with the tourist office.
Discount of the Manresa, heart of Catalonia Route: 10% on general rate.
More information
Tel.: 938 784 090.
turisme@ajmanresa.cat
turisme@manresaturisme.cat
www.manresaturisme.cat
The schedules may vary; It is recommended that you check them out beforehand.
Get the Guidebook of Barcelona Modernisme Route
The Barcelona Modernisme Route is an itinerary through the Barcelona of Gaudí, Domènech i Montaner and Puig i Cadafalch, who, together with other architects, made Barcelona the great capital of Catalan Art Nouveau. With this route you can discover impressive palaces, amazing houses, the temple that is symbol of the city and an immense hospital, as well as more popular and everyday works such as pharmacies, shops, shops, lanterns or banks. Modernisme works that show that Art Nouveau took root in Barcelona and even today is still a living art, a lived art.

The Guidebook of Barcelona Modernisme Route can be acquired in our centers of Modernisme.

<!– #main-content –>