Palau del Baró de Quadras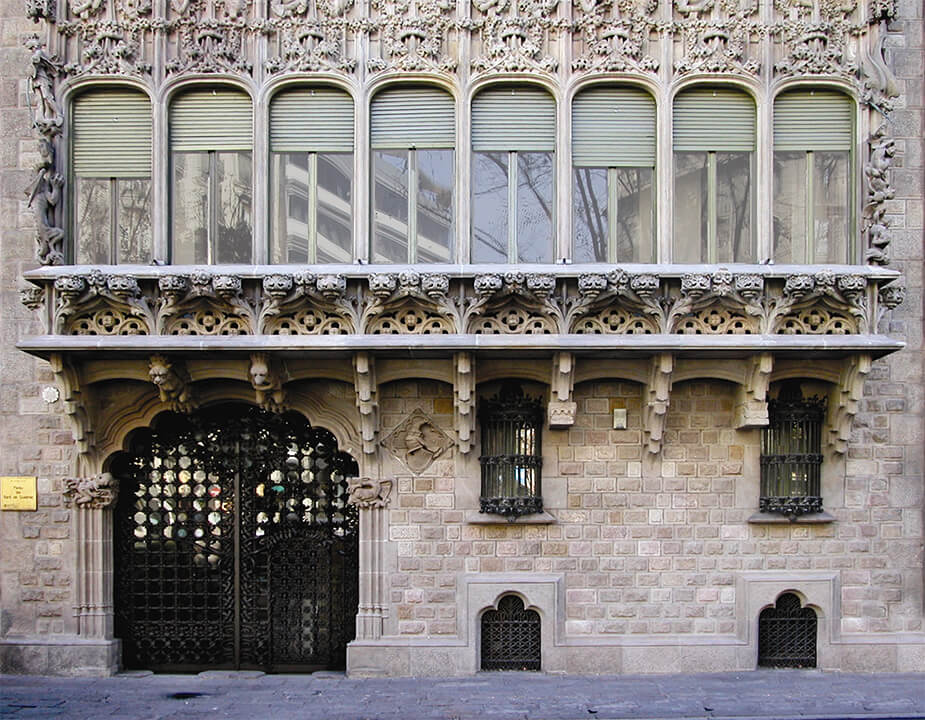 Built in 1904, it is now the premises of the Institut Ramon Llull, a public body founded with the purpose of promoting Catalan language studies at universities abroad, and Catalan cultural production. The mansion is a veritable compendium of Puig i Cadafalch's capacity for design and elegance. Everything is exemplary: from the wrought iron door to the interior, with a highly ornamented foyer. One of the curiosities is the building's double façade. The façade giving onto Avinguda Diagonal emphasises the noble nature of the mansion, and combines Gothic and Plateresque forms with an abundant floral decoration. The rear façade (giving onto Carrer Rosselló) reveals that the building was in origin not a palace, but a simple block of flats. The Arabic-style interior contains Roman mosaics, polychrome woodwork, sgraffito work and wooden lattices.
Timetable
Tours Fridays except public holidays:
10 a.m. English
11.15 a.m. Spanish
12.30 p.m. Catalan
Prices and discounts
General: €16,00.
Modernisme Route discount: 20% off adult price.
More information
Timetables may vary.
Get the Guidebook of Barcelona Modernisme Route
The Barcelona Modernisme Route is an itinerary through the Barcelona of Gaudí, Domènech i Montaner and Puig i Cadafalch, who, together with other architects, made Barcelona the great capital of Catalan Art Nouveau. With this route you can discover impressive palaces, amazing houses, the temple that is symbol of the city and an immense hospital, as well as more popular and everyday works such as pharmacies, shops, shops, lanterns or banks. Modernisme works that show that Art Nouveau took root in Barcelona and even today is still a living art, a lived art.

The Guidebook of Barcelona Modernisme Route can be acquired in our centers of Modernisme.

<!– #main-content –>