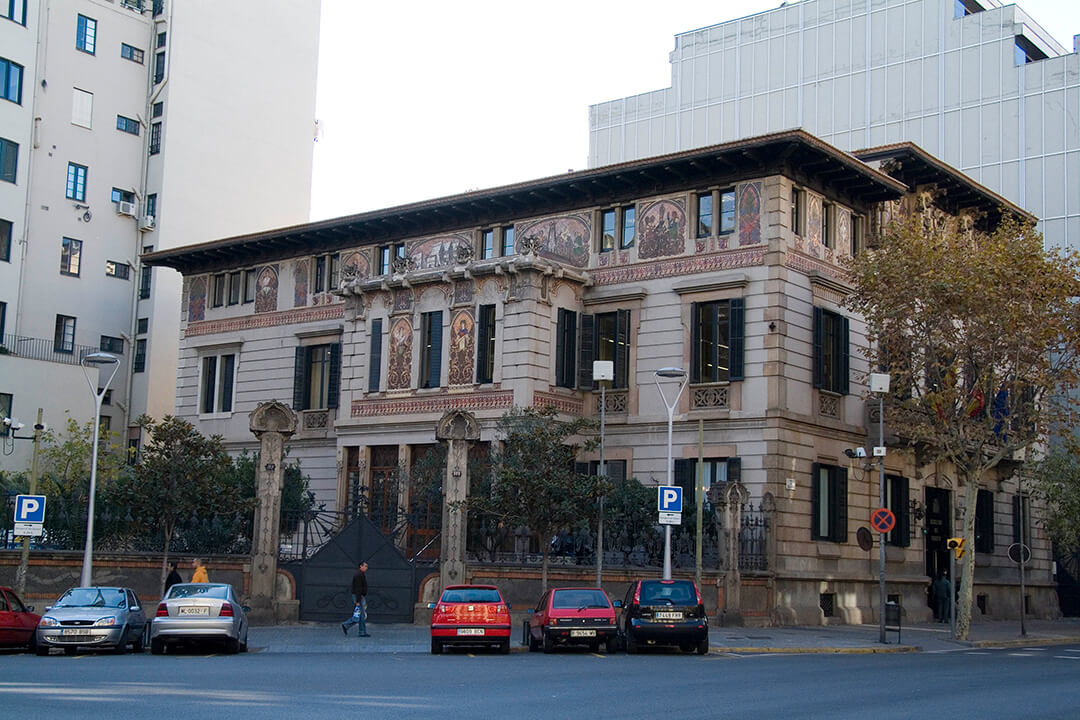 A litlle bit further on, on the corner with Carrer Llúria is the PALAU MONTANER, (66) completed by a young Domènech i Montaner in 1896 for one of the owners of the Montaner i Simon publishing firm -though the building was begun by Josep Domènech i Estapà until he resigned in 1891 after an argument with the owner, leaving two stories already standing. Decorative elements related to the art of printing can be found both inside and outside, but the interior is especially exquisite. Here we find the stamp of great artists of Modernisme, like the sculptor Eusebi Arnau, the carpenter Gaspar Homar and the glassmaker Antoni Rigalt. The mansion is richly decorated, with mosaics, sculptures, carved woodwork and a spectacular staircase under a grand ornamental glass skylight. The palace is now is one of the headquarters of the Madrid Government's Delegation in Catalonia.
Timetable
Closed
More information
Tel.: (+34) 933 177 652.
Timetables and language of visits may change without prior notice due to security reasons.
Get the Guidebook of Barcelona Modernisme Route
The Barcelona Modernisme Route is an itinerary through the Barcelona of Gaudí, Domènech i Montaner and Puig i Cadafalch, who, together with other architects, made Barcelona the great capital of Catalan Art Nouveau. With this route you can discover impressive palaces, amazing houses, the temple that is symbol of the city and an immense hospital, as well as more popular and everyday works such as pharmacies, shops, shops, lanterns or banks. Modernisme works that show that Art Nouveau took root in Barcelona and even today is still a living art, a lived art.

The Guidebook of Barcelona Modernisme Route can be acquired in our centers of Modernisme.

<!– #main-content –>