Parc d'Atraccions Tibidabo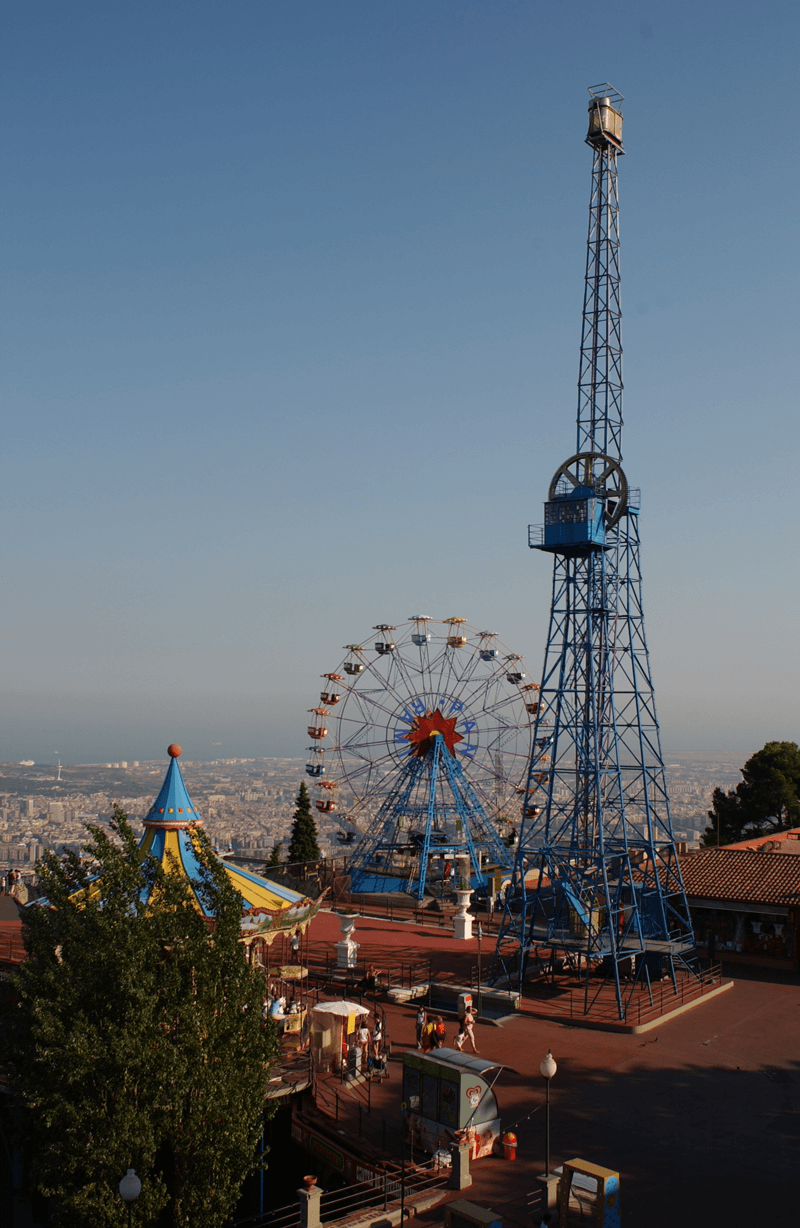 From Plaça del Doctor Andreu you can take the funicular up to the top of the Tibidabo and the PARC D'ATRACCIONS TIBIDABO (111). (TIBIDABO FUNFAIR). The Tibidabo Funfair of Barcelona, opened in 1899 by doctor Salvador Andreu, is one of the three oldest in the world. Its magnificent location, in a natural environment where engineering gems of great historical value -the so-called "emblematic rides"- are found side-by-side with state-of-the-art installations and startling shows, make this one of the most representative leisure spots in Barcelona. The emblematic fairground attractions include the Avió (Aeroplane), which is part of the city's collective memory, and the Museu d'Autòmats (Automaton Museum), housed in a former theatre dating from 1909. The automaton collection includes pieces from all over the world and some fifty automatons from the early 20th century, some of which are considered to be Modernista. Many of them still work; they range from coin-operated dolls that were once a common sight at fairs throughout Europe, to mechanical games and toys with which the children of the bourgeoisie of the time used to amuse themselves. The museum's collection is regarded as one of the best in the world, particularly because of the good condition of many of the items, some of which are currently being restored.
Timetable
TIBIDABO AMUSEMENT PARK
Opened:
From March to December: weekends and bank holidays
July and August: from Wednesdays to Sundays
December: from the 23rd to the 31st (except 25th and 26th)
January: from the 2nd to the 5th
Closed: from the 6th to the 31st of January and during all February.
To check the schedules, click on the day you want to come to visit the Park.
PANORAMIC AREA
Opened every day except:
January 1st
From the 6th to the 31st of January
25th and 26th December
February: opened only on weekends
Prices and discounts
Panoramic area ticket: €19.00.
Full ticket: €35.00.
Discount of the Modernisme Route:
20% off the Panoramic Area ticket.
20% off Tibitour ticket, guided tour to discover the history of the park, with previous appointment at tibidabo@tibidabo.cat.
Promotion subject to the capacity of the Park at the time of the visit.
More information
Tel.: 932 117 942.
www.tibidabo.es
"Tibibus", direct from Plaça Catalunya
FGC metro, stopping at Avinguda Tibidabo, Funicular CUCA DE LLUM
FGC metro, stopping at Peu del Funicular, then take Funicular de Vallvidrera or BUS 111 to the mountain topFurther details
Get the Guidebook of Barcelona Modernisme Route
The Barcelona Modernisme Route is an itinerary through the Barcelona of Gaudí, Domènech i Montaner and Puig i Cadafalch, who, together with other architects, made Barcelona the great capital of Catalan Art Nouveau. With this route you can discover impressive palaces, amazing houses, the temple that is symbol of the city and an immense hospital, as well as more popular and everyday works such as pharmacies, shops, shops, lanterns or banks. Modernisme works that show that Art Nouveau took root in Barcelona and even today is still a living art, a lived art.

The Guidebook of Barcelona Modernisme Route can be acquired in our centers of Modernisme.

<!– #main-content –>