Ruta modernista de Vilafranca del Penedès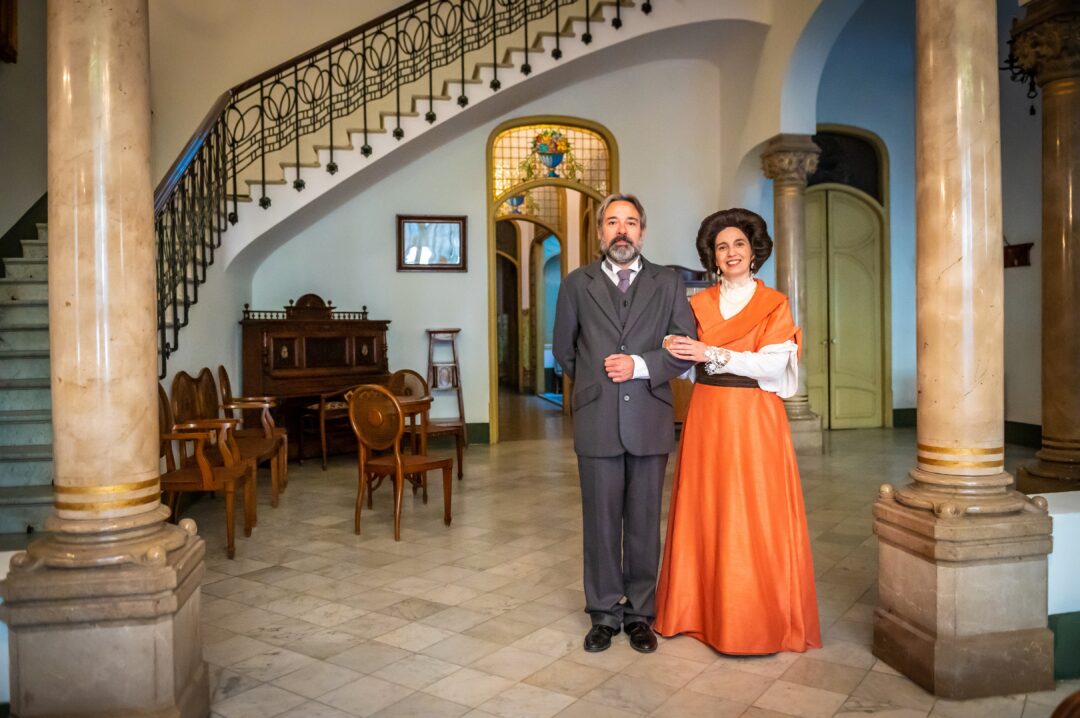 Modernisme in Vilafranca del Penedès
The economic resurgence of the Alt Penedès, after a plague of phylloxeras had destroyed the vineyards, the basis of the shire's economy, paved the way for the arrival of the artistic and social current that was beginning to take hold in Europe. Farm owners and merchants became the receivers of Modernista trends and had buildings put up in keeping with their economic position.
Towards the end of the 19th century, Vilafranca begun its transformation from a village into a small town as new buildings sprang up, changing its traditional image, and plans were laid for a new type of town. Renowned architects took over from master builders and there emerged the figures of Santiago Güell, Eugeni Campllonch and Antoni Pons. Santiago Güell (Vilafranca, 1869) was the municipal architect and played an active part in the political life of Vilafranca. As an architect he was scrupulous and a perfectionist. It was he who left the biggest imprint on the town, creating the town's image and designing many of its most emblematic buildings. These buildings were characterised by mastery of the architectural technique and personal touches which he applied to his works with sobriety, elegance and balance.
Modernista architecture in Vilafranca combines popular Catalan architecture with the traits typical of Modernisme, which contributed new materials and a new conception of space. On the route through Modernista Vilafranca you will be able to see the colourful naturalistic decoration of the façades, the use of exposed brickwork on some buildings and the stained glass and wrought iron railings on windows and balconies.
Vilafranca's Modernista heritage comprises 33 buildings of the most varied kinds: ancestral homes, public buildings and warehouses catering for the export of wines and liqueurs, clear exponents of the importance of industrial architecture in its own right.
Modernisme also embraced other aspects of art such as painting, sculpture and urban furniture design. As you walk along Carrer de Santa Maria, right in the centre of Vilafranca, you will see some singular examples of this latter type in the form of streetlamps. If you go into the Crypt of the Basilica you will find an excellent sculpture by Josep Llimona and in the Vilafranca Museum there are drawings by Ricard Opisso as well as works by other Modernista artists.
This Vilafranca route allows you to learn about the impact this cultural movement had at the turn of the century through the new symbols of progress and modernity contributed by the innovative trend called Modernisme.
Servei de Turisme (Municipal Trade and Tourism Board)
How to get there
By train: RENFE trains bound for Sant Vicenç de Calders or Vilafranca itself, from Sants or Passeig de Gràcia stations.
By bus: Hispano Igualadina company (tel.: 938 044 451).
By road: toll highways AP2 and AP7 (exit 29), or road N-340.
Timetable
Guided visits in downtown Vilafranca, 2022:
April 10
May 8
June 12
October 9
November 13
December 18
Previous booking required.
Privately booked visits are available all year round for groups of at least 8 people.
The tours of these houses are dramatised.
Tourist Board
Tours in Catalan
Prices and discounts
Adults: € 12.00
Retired: 50% discount
Children up to 4 years old: free
The visit includes the visit to the interior of Casa Miró.
Discount of the Modernism Route: 15%.
More information
Tel.: 938 181 254
Fax: 938 181 479
turisme@vilafranca.org
www.turismevilafranca.com
The schedules may vary; It is recommended that you check them out beforehand.
Get the Guidebook of Barcelona Modernisme Route
The Barcelona Modernisme Route is an itinerary through the Barcelona of Gaudí, Domènech i Montaner and Puig i Cadafalch, who, together with other architects, made Barcelona the great capital of Catalan Art Nouveau. With this route you can discover impressive palaces, amazing houses, the temple that is symbol of the city and an immense hospital, as well as more popular and everyday works such as pharmacies, shops, shops, lanterns or banks. Modernisme works that show that Art Nouveau took root in Barcelona and even today is still a living art, a lived art.

The Guidebook of Barcelona Modernisme Route can be acquired in our centers of Modernisme.

<!– #main-content –>