Ruta Puig i Cadafalch (Mataró-Argentona)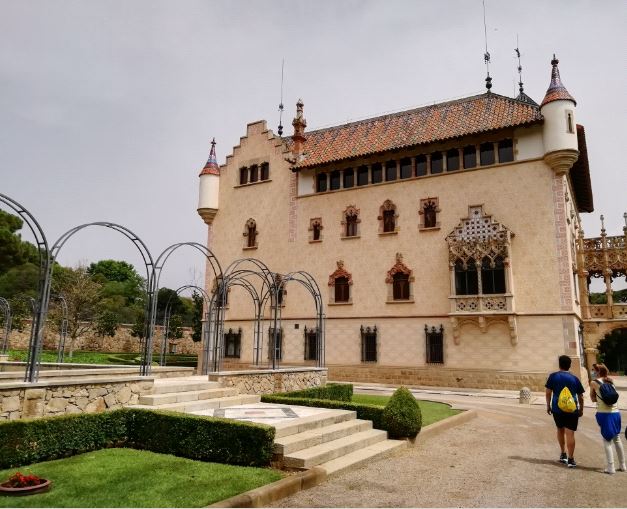 Modernisme was a social and political movement of great magnitude with a major impact on the arts that spread throughout Catalonia, at the same time as it did across the rest of Europe and America (where it was more commonly known as Art Nouveau or the New Style), between the final third of the 19th century and the first quarter of the 20th century. In Catalonia it made itself felt not only in the big cities, but also in other towns such as Mataró, Argentona and Canet de Mar whose historical and social characteristics made them ideal places for such trends to manifest themselves.
Architecture was the most representative form taken by these changes in style and ways of living, as it constituted a set of highly visible "modernities" encompassing both structure and the applied arts.
The Maresme shire developed dynamically into a broad range of productive sectors, mainly textiles and glass, liqueurs and wine-growing, while at the same time becoming a place where the Catalan bourgeoisie spent its summers and took the waters (the hot-water springs of Caldes d'Estrac and the medicinal springs of Argentona). It also attracted sailors and merchants returning from the Americas with the intention of settling down for good where they had originally come from.
Some of the creators of the architectural projects of Modernisme, such as Josep Puig i Cadafalch, Eduard Ferrés i Puig, Emili Cabanyes and Ignasi Mas i Morell, came from the Maresme, while others, such as Lluís Domènech i Montaner and Antoni M. Gallissà, made it their home. Their works display a rich variety of architectural types ranging from large summer residences, industrial buildings (factories, wine cellars) and shops to public commissions (town halls, markets, schools, abattoirs, children's homes, churches, etc.). Josep Puig i Cadafalch and Lluís Domènech i Montaner were two of the leading exponents of Modernisme in Catalonia and were responsible for the fact that the Maresme has one of this movement's most notable architectural heritages. In 2001, Mataró and Argentona, together with Barcelona, organised the Josep Puig i Cadafalch Year with various activities covering different cultural manifestations with a view to raising awareness about him and his outstanding work.
Mataró
Saló de Sessions de l'Ajuntament (1893), La Riera, 48. In 1893, Puig i Cadafalch, who at that time was working as a municipal architect in Mataró, drew up the plans for the renovation of the Sessions Hall in the town hall. Of particular note is the decoration of the panelled ceiling with beams adorned with coats-of-arms and emblematic symbols crossing each other.
The house where Puig i Cadafalch was born, El Carreró, 39. This house is an 18th century building known locally as a casa de cós, a long and narrow terraced house. A commemorative plaque on the façade, put up in 1967, recalls the figure of the illustrious architect. The façade was restored in 2001 on the occasion of Puig i Cadafalch Year.
El Rengle (1891-1893), Plaça Gran, s/n. The plans for this market building were drawn up by Emili Cabanyes, the municipal architect at that time. Puig i Cadafalch was responsible for renovating the semicircular roof decorated with ceramic tiles, open brickwork and wrought iron ornamental details.
La Confianza (1894-1896), Carrer de Sant Cristòfor, 10. This shop was commissioned by Francesc Palomer and opened in 1896. It sold pasta for soup and olive oil. Inside, the walls and ceiling of the shop are decorated with vegetable motifs and ornamental friezes and there are display cabinets with Neo-Gothic-style pinnacles, while outside it features a wrought iron sign with Modernista lettering.
Casa Parera (1894), Carrer Nou, 20. This building was renovated for Miquel Parera i Partagàs. It is a former two-storey casa de cós with floral and vegetable sgraffiti, exposed brickwork, wrought iron and medieval-type sculptural elements (corbels, coats-of-arms and gargoyles).
La Beneficència (1894), Carrer Sant Josep, 9. La Casa de la Beneficència, to give it its full name, was a poorhouse in the former Carmelite convent of Sant Josep, occupied at that time by the Conceptionists. Puig broke up the austere façade with large windows with corolla columns and medieval-inspired capitals, Neo-Gothic-style sculptural elements and the coats-of-arms of Mataró and Catalonia.
Casa Coll i Regàs (1896-1898), Carrer d'Argentona, 55-57. This house was commissioned by the Mataró businessman Joaquim Coll i Regàs. It is currently the headquarters of Fundació Caixa Laietana and the most emblematic Modernista building in town. In this building Puig i Cadafalch marshalled a comprehensive range of iconography and decoration with the intention of flattering his client, a prestigious textile industrialist.
Argentona
Puig i Cadafalch's summer residence (1897-1905), Plaça de Vendre, s/n. This is the house where the architect used to spend the summer when he was little and where he later found refuge upon his return from exile in 1942. Puig opened up the party walls so as to join up what were originally three separate dwellings and make them into one. Of particular note are the Modernista elements such as the battlements, the sculptures and the broken-tile decoration (known as trencadís) on the chimneys.
Capella del Sagrament (1896-1897), Plaça de l'Església, 1. The new chapel is in Neo-Gothic style. It can be reached through a side door from the church of Sant Julià. The nave of the chapel has a rectangular ground plan, while the apse is built on a semi-hexagonal ground plan and roofed with lancet-arch vaults.
Can Calopa (1898), Carrer de Riudemeia, 8. This sixteenth-century manor house and ancestral home occupies four cóssos and has a pyramidal roof. According to Lluís Bonet i Garí, the plans for alterations to the building, which gave it its eclectic appearance, were drawn up by Puig i Cadafalch.
Casa Garí (1898), Camí de Sant Miquel del Cros, 9. This former Catalan country house was converted into a Nordic-inspired mansion for use as a summer residence in just nine months. Puig i Cadafalch was commissioned by Josep Garí i Cañas to take care of the architectural side of the transformation. Casa Garí was turned into veritable palace combining every luxury and facility (a theatre, gardens, a lake) with the image of a solid, fortified country house (two watchtowers facing south and a tower, with a sgraffito sundial on the wall, attached to the house).
Torre d'Aigües del Cros (1900), Avinguda Molí de les Mateves, s/n. This circular water-raising tower, shaped like a chimney, is made of clay bricks and has a roof decorated with broken tiles or trencadís. It supplied water to the Can Garí estate.
After this, the minibus takes you back to Mataró where the tour ends in Plaça de les Tereses.
Ajuntament d'Argentona
(Argentona Town Coucil)
Ajuntament de Mataró
(Mataró Town Council)
How to get there
By train: RENFE R1/RG1 from Sants, Plaça Catalunya, Arc de Triomf and Clot Aragó stations. Information: 900 410 041.
By bus: direct by highway:
- Mataró – Barcelona: Exprés 11.1 i 11.2 lines (Moventis Empresa Casas, tel. 937 98 11 00)
- Mataró - Granollers - Sabadell: Exprés 13 (Moventis).
Stops:
- Mataró - Barcelona, line C10: Moventis.
- Mataró - Llavaneres - Sant Vicenç de Montalt, lines C20: Moventis.
- Mataró - Vilassar de Dalt, line C30: Moventis.
- Mataró - Veïnat del Cros - Argentona: Sagalés.
- Mataró - Òrrius: Sagalés.
- Mataró - Argentona - Dosrius - Canyamars: Sagalés.
By car:
By the C-32 highway, exits Mataró Sud, Mataró Oest and Mataró Nord, or by the N-II road.
From Granollers, C-60, which connects with the C-32 and the N-II.
Prices and discounts
Please consult opening times in the Tourist Office of Mataró
La Riera, 123 - 08302 Mataró
Tel. 937 582 698
From November to Easter:
From Tuesday to Saturday from 10 a.m. to 2 p.m. and from 4 p.m. to 7 p.m
Sundays from 10 a.m. to 2 p.m
Holidays: closed
From Easter to June and September and October:
From Tuesday to Saturday from 10 a.m. to 2 p.m. and from 4 p.m. to 7 p.m
Sundays and holidays from 10 a.m. to 2 p.m
July and August
From Monday to Saturday from 10 a.m. to 2 p.m. and from 4 p.m. to 7 p.m
Sundays and holidays from 10 a.m. to 2 p.m
turisme@ajmataro.cat / turisme@argentona.cat
www.visitmataro.cat
Schedules may vary, so it is advisable to check them in advance.
Get the Guidebook of Barcelona Modernisme Route
The Barcelona Modernisme Route is an itinerary through the Barcelona of Gaudí, Domènech i Montaner and Puig i Cadafalch, who, together with other architects, made Barcelona the great capital of Catalan Art Nouveau. With this route you can discover impressive palaces, amazing houses, the temple that is symbol of the city and an immense hospital, as well as more popular and everyday works such as pharmacies, shops, shops, lanterns or banks. Modernisme works that show that Art Nouveau took root in Barcelona and even today is still a living art, a lived art.

The Guidebook of Barcelona Modernisme Route can be acquired in our centers of Modernisme.

<!– #main-content –>