Ruta Raspall (Vallès Oriental)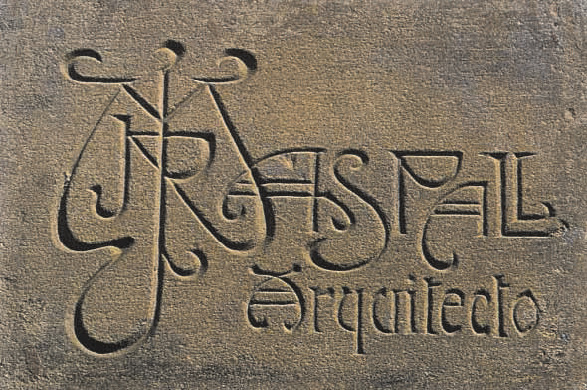 A suggestion for discovering the architecture of the summer residences in Vallès Oriental and the work of the architect Manuel Joaquim Raspall (1877-1954) in L'Ametlla, Cardedeu, La Garriga and Granollers.
The Modernisme of Summer Residences in Vallès Oriental: The Raspall Route
At the end of the 19th century, El Vallès Oriental was a shire that still had a strong agricultural base and timid industrial growth, highly focused on the capital, Granollers. However, its proximity to Barcelona and improved communication routes -local roads and two railway lines linking Barcelona to France- were at one and the same time key factors in triggering a process of development and transformation, and the cause and consequence of a phenomenon that characterised the small towns and villages of this area until well into the 20th century: the custom of city-dwellers to move out of Barcelona for the summer.
From the middle of the 19th century onwards, this practice grew into a new form of leisure for the better-off classes in the cities, especially Barcelona. Although it began under the guise of therapeutic stays, by the 20th century it was simply a matter of people finding places away, but not too far, from their habitual residences, where they could engage in social life and enjoy a long period of holidays. The small towns and villages of El Vallès such as L'Ametlla, La Garriga and Cardedeu, which had hung on to their rural and agrarian character, gradually became attractive places to spend the summer on account of their nearness to Barcelona, their countryside and, above all, their therapeutic resources.
Doctors, lawyers, industrialists, financiers, politicians, people returning from the Americas having made their fortune and even artists, mainly from Barcelona, formed an emerging social class that was by no means compact, but had its own habits and ways of life defining it as a class. One of these habits was to go and spend the summer in places where they constituted a colony of summer residents. The colony was a clearly differentiated group within the life of each municipality. They dressed mainly in white, with parasols, hats, fans and sunglasses, frequented the Casino, the colony's social hub and meeting point as well as an essential facility in every summer resort, and organised a range of activities, from dances and parties, plays and literary evenings to concerts, gymkhanas and excursions, not to mention all kinds of public and private events. Some of these were much talked-about, such as the two performances, including the première of the play La viola d'or (The Golden Viola) by Apel·les Mestres with music by Enric Morera, at the Teatre de la Natura in the Can Terres wood in La Garriga in 1911 and 1914, and the performance of the operetta Maruja by Amadeu Vives, in 1915, in the Vilalba wood in Cardedeu.
For small towns and villages such as L'Ametlla, La Garriga and Cardedeu, the summer residence phenomenon brought with it a considerable economic awakening that stimulated trade, direct relations with Barcelona, the development of services such as inns and spas and, above all, a boost to new construction and urban growth. The colony of summer residents needed new houses to stay in, either as owners or for rent, and these buildings had to incorporate the latest architectural trends of the time: Modernisme.
In L'Ametlla, La Garriga and Cardedeu magnificent homes were built in the Modernista style with lush gardens that today stand as testimony to a particular period. In these towns there are a large number of buildings, principally summer residences, by renowned architects of the time such as Eduard M. Balcells, Puig i Cadafalch, Jeroni Martorell, Emili Sala i Cortés and, above all, Joaquim Raspall, who had family connections with La Garriga.
M.J. Raspall i Mayol (1877-1954), a disciple of Domènech i Montaner and Puig i Cadafalch, is regarded as belonging to the second generation of Modernista architects. Most of his work, with a markedly singular style, is to be found in the small towns in El Vallès for which he worked as a municipal architect - in Cardedeu (1904), L'Ametlla del Vallès (1906), La Garriga (1906), Granollers (1907), Caldes de Montbui (1909) and later Montmeló (1924). In these municipalities he built remarkable houses in the Modernista style as well as carrying out public-sector works, including town planning, designs for urban furniture and even Cardedeu Municipal Cemetery.
Going round these towns will give you the chance to get to know Raspall's Modernista architecture, evoke the time when the practice of moving residence for the summer was in fashion and discover municipalities that were transformed and acquired character in the early part of the 20th century. The suggested route, entitled The Modernisme of Summer Residences in El Vallès Oriental: The Raspall Route, will allow you to spend a whole day going through L'Ametlla, La Garriga and Cardedeu discovering interesting corners, singular buildings and above all Modernista architecture designed for people to spend and enjoy their summers in Vallès Oriental.
The guided tour sets off from Cardedeu at half past nine in the morning. It begins with a brief coach trip to L'Ametlla del Vallès, a small town of medieval origin that became a centre for summer residences in the early 20th century. The main feature of the visit to L'Ametlla is Casa Millet, a 14th century farmhouse that was converted by Raspall in 1908 into the summer residence of Joan Millet, a cotton industrialist and brother of Lluís Millet, director and joint founder of the Catalan choral society, L'Orfeó Català. The garden, the façade and the interesting fireplace in the dining room are testimony to the architect's most Modernista period.
After a guided walk and time for a coffee, the route continues to La Garriga, a watering place ever since Roman times and the town where most of the Modernista architecture in El Vallès Oriental is concentrated. A selection of over twenty houses will take you back to the time when it was the fashion to move out of the city in the summer, and give you the chance to enjoy the garden of Casa Barbey (1910), a house which the textile industrialist Juli Barbey built and is today one of the foremost examples of the Modernista movement outside the Barcelona area. Casa Barbey and the neighbouring buildings of Torre Iris (1911), La Bombonera (1910) and Casa Barraquer (1912-13) form the so-called Illa Raspall, or Raspall Block, a unique set of buildings in Catalonia now listed as of National Interest.
From La Garriga you go back to Cardedeu, stopping off at the municipal cemetery, one of the most interesting and remarkable pieces of funereal architecture in Catalonia. After an optional lunch, the route continues through the centre of Cardedeu with visits to Alqueria Cloelia (1904), the first private-sector work by Raspall, the gardens of Casa Viader (1917-1922), commissioned by Marc Viader, father of the Cacaolat inventor, the locally famous chocolate drink, and an exclusive visit to the entrance hall and library of Casa Golferichs-Rovellat (1908), which boasts a noteworthy set of glasswork with leaded stained-glass windows featuring completely Modernista figures and patterns.
The route is open to all types of groups and individuals and has special educational variants for school parties.
Modernisme d'Estiueig al Vallès Oriental (The Modernisme of Summer Residences in El Vallès Oriental)
Ajuntament de l'Ametlla (L'Ametlla Town Council)
Ajuntament de Cardedeu (Cardedeu Town Council)
Ajuntament de la Garriga (La Garriga Town Council)
Ajuntament de Granollers (Granollers Town Council)
Consorci de Turisme del Vallès Oriental (Vallès Oriental Tourist Board)
Timetable
Vallès Oriental Modernist Route
LA GARRIGA
Thermal villa and summer resort
Thermal waters and the building of houses for summer vacations contributed to consolidate La Garriga as a holiday place, which has the most outstanding modernist set in the county - Raspall block, with four houses by this architect which have been declared National Cultural Heritage.
-Meeting point: Centre de Visitants (Carretera Nova, 46)
-Calendar: guided tours second Saturday of every month and tours under request.
-Visiting hour: 10 am. The guided tour is from 10 am to 12 pm.
-Price: 5€ for person.
-Contact by phone at 93 113 70 31 – 610 47 78 23
www.visitalagarriga.cat – info@visitalagarriga.cat
GRANOLLERS
Granollers in Modernism time
Granollers is a modern city that has grown as a commercial centre. At the beginning of the twentieth century some residential and public buildings were built, most of them by Raspall, the municipal architect.
- Meeting point: Granollers' Museum (Anselm Clavé, 40)
-Calendar: information available at the website.
-Price:
€4 for person
€2 retirees
Free guided visit up to 12 years-old
-Contact by phone at 93 842 68 40
www.museugranollers.cat – museu@ajuntament.granollers.cat
CARDEDEU
Raspall and Cardedeu
Is one of the most important residential towns in Vallès Oriental County, the tour shows us the magnificent modernist houses surrounded by beautiful gardens.
- Meeting point: Museu Arxiu Tomàs Balvey (carrer Dr. Daurella, 1)
-Calendar: guided tours first Sunday from March to Jun and from October to November and tours under request.
-Visiting hour: 10.30h. The guided tour is 2 hours long.-Price: €7 for person
€5 for children from 6 to 12 years old and retired people.
-Contact by phone at 93 871 30 70
Getting there:
By train: RENFE, trains bound for Girona or Maçanet from Sants or Passeig de Gràcia stations. By bus: Sagalés company (tel.: 938 707 860). By car: road C-58 or highway AP-7 (exit Cardedeu).
www.museudecardedeu.cat – museu@cardedeu.cat
FIGARÓ – MONTMANY
The tour shows us the tradition of being a summer holiday town with wonderful houses, as well as a place to go on excursions for nature and heritage.
-Meeting point: Tourist Information Office. El Molí de Ca l'Antic.
-Self guided tours every Saturday and Sunday and guided tours for groups under request.
-Contact by phone at 93 842 91 11
www.elfigaro.net
L'AMETLLA DEL VALLÈS
Ametlla's Modernist route
The tour shows us the most peculiar modernist projects in the town. Most of them are form the first stage of M. J. Raspall.
-Meeting point: Town hall square.
-Calendar: guided tours first Sunday of every month and tours under request.
-Price: 3€ for person.
-Contact by phone at 93 843 25 01
www.ametlla.cat
- ametlla@ametlla.cat
Modernist Route discounts: 10% off the price of certain town routes.
More information
Tel.: 938 600 702
www.turismevalles.com
turisme@vallesoriental.cat
Timetables may vary.
Get the Guidebook of Barcelona Modernisme Route
The Barcelona Modernisme Route is an itinerary through the Barcelona of Gaudí, Domènech i Montaner and Puig i Cadafalch, who, together with other architects, made Barcelona the great capital of Catalan Art Nouveau. With this route you can discover impressive palaces, amazing houses, the temple that is symbol of the city and an immense hospital, as well as more popular and everyday works such as pharmacies, shops, shops, lanterns or banks. Modernisme works that show that Art Nouveau took root in Barcelona and even today is still a living art, a lived art.

The Guidebook of Barcelona Modernisme Route can be acquired in our centers of Modernisme.

<!– #main-content –>