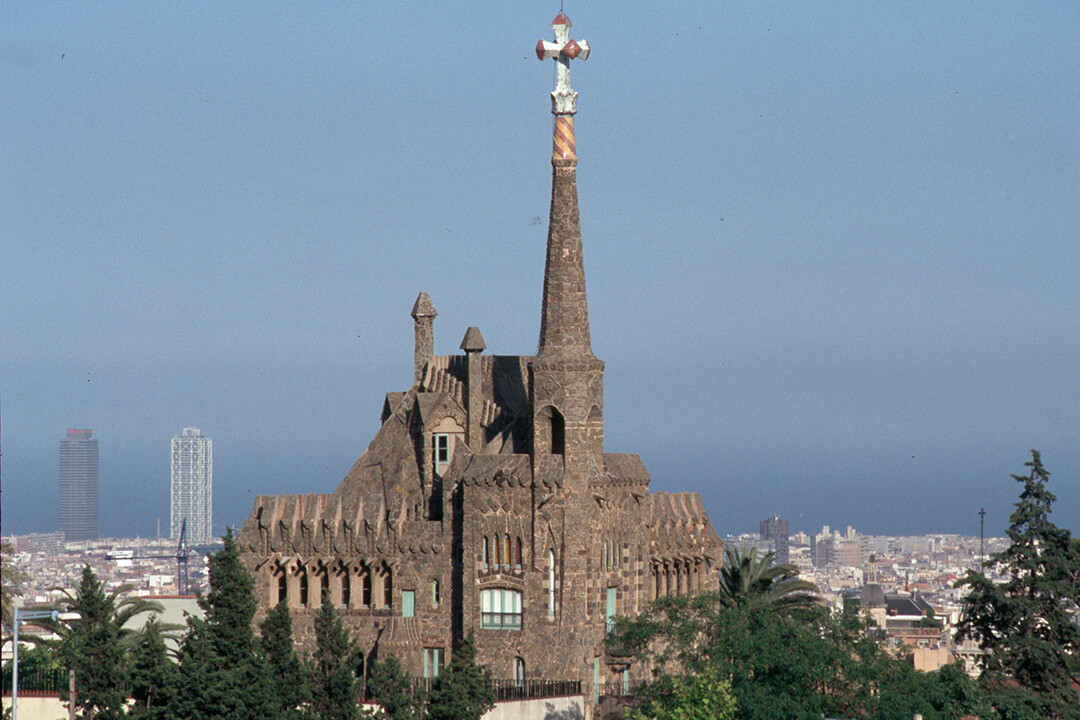 Torre Bellesguard is one of Antoni Gaudí's most symbolic and fascinating works, aware as the architect was that this piece of land had witnessed major events that marked the history of Catalonia and that major characters throughout the ages had coincided there. The castle that Antoni Gaudí designed combines Catalan Modernisme and Gothic as a tribute to the palace of King Martin the Humane, the last king of the House of Barcelona, who spent the final years of his life in Bellesguard. He also restored the remains of the original palace and the defensive wall that he discovered, working on the project between 1900 and 1909. Antoni Gaudí's Torre Bellesguard was declared a work of cultural interest on 24 July 1969 and is one of his most outstanding buildings with the longest prior history, a history that in turn influenced the architect, imbuing Bellesguard as he did with much symbolism in both its tower and gardens and providing many references to the medieval past of the estate and King Martin. Bellesguard is a gem of Catalan Modernisme and one of Antoni Gaudí's least known and yet most personal works. Nearby one can see the arches that Gaudí himself designed between 1903 and 1905 in order to consolidate the street leading to Sant Gervasi cemetery and passing next to the Torre Bellesguard. The ten arches are little known, although they are contemporary, and very similar, to the famous arches the architect designed for the Park Güell.
Actions on Modernista Heritage City Council Programme Barcelona, posa't guapa (Barcelona, get pretty)
Landscaping of interior spaces.
Restoration of the crown of the building and in particular the outstanding elements: the merlons and gargoyles.
Start of restoration of the viaduct. Consolidation of the whole structure, lowering of the level of the earth to reveal the bottom of the pillars and landscaping of the surrounding area.
Timetable
From Tuesday to Sunday from 10 am to 3 pm.
Closed: Every Monday all year round, 25 and 26 December, 1 and 6 January.
Guided tours:
Saturdays 11am (English), 12pm (Spanish) 13.15pm (Catalan).
Sunday 11am (English), 12pm (Catalan) 1.15pm (Spanish).
Booking in advance is recommended (reserva@bellesguardgaudi.com).
Prices and discounts
Guided tour:
Exclusive guided tour of Bellesguard.
Adults: €16.
Students and pensioners: €12.80.
Children up to 8 years old: free.
Audio guide tour:
Self guided with audio guide.
Adults: €9.
Students and pensioners: €7.20.
Children up to 8 years old: free.
Modernisme Route discount: 20% off the adult price in both tour categories.
More information
Tel.: +34 93 250 40 93
reserva@bellesguardgaudi.com
www.bellesguardgaudi.com
Get the Guidebook of Barcelona Modernisme Route
The Barcelona Modernisme Route is an itinerary through the Barcelona of Gaudí, Domènech i Montaner and Puig i Cadafalch, who, together with other architects, made Barcelona the great capital of Catalan Art Nouveau. With this route you can discover impressive palaces, amazing houses, the temple that is symbol of the city and an immense hospital, as well as more popular and everyday works such as pharmacies, shops, shops, lanterns or banks. Modernisme works that show that Art Nouveau took root in Barcelona and even today is still a living art, a lived art.

The Guidebook of Barcelona Modernisme Route can be acquired in our centers of Modernisme.

<!– #main-content –>