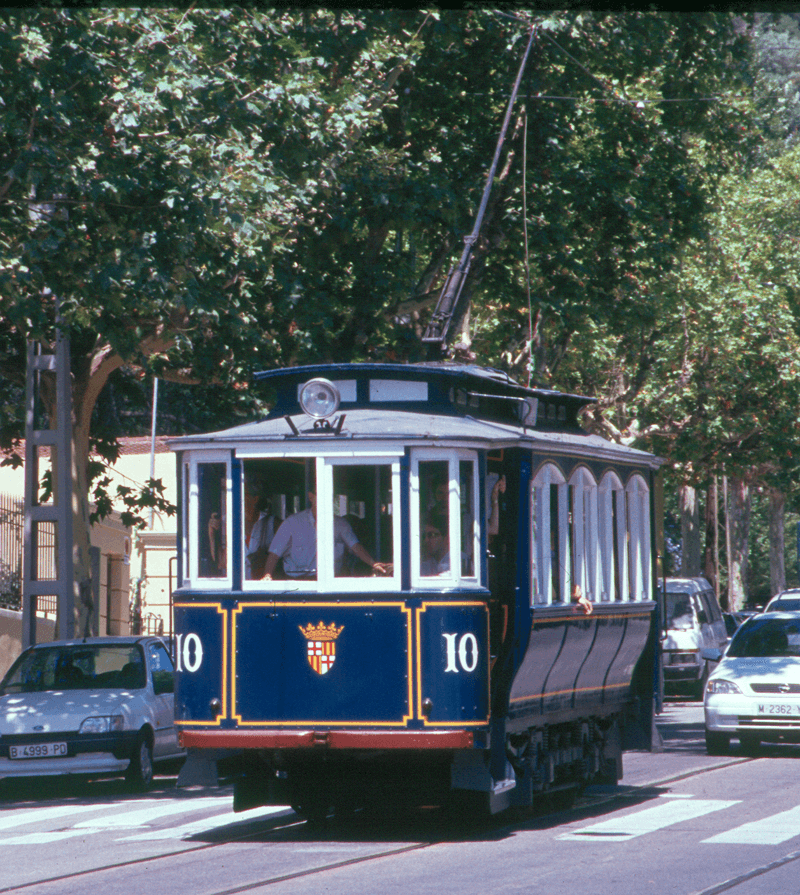 Near La Rotonda, at the beginning of Avinguda del Tibidabo, there is a stop where you can catch the TRAMVIA BLAU (102). (BLUE TRAM). This tram, which originally dates from the Modernista period, is a pleasant way to approach the mountain, on a relaxed ride between majestic houses and gardens up to the funicular lower station. The six trams on the route cover the distance of 1,276 metres, including a difference in altitude of 93 metres, at an average speed of 10 kph. The Tramvia Blau's first service on 29 October 1901 was the fulfilment of Doctor Salvador Andreu's ambition to open up an alternative way to the Tibidabo, direct to his funfair at the summit. At first the fleet consisted of four trams that covered the route between Passeig de Sant Gervasi, the end of the line for Barcelona's urban trams, and the lower station of the Tibidabo funicular half way up the mountain. In 1981, following a long period of restoration work, two old trams were put back into operation: tram number 2 from 1901, which had been out of service for 30 years, and the model popularly known as "la Jardinera" ("the Flower Box") which had once run along the sea front. The renewal of the tracks on 1984 and the construction work on the city's second ring road in 1990 affected the line's old route. However, advantage was taken of this circumstance to build a new transformer station and refurbish the tracks and the tram sheds.
Timetable
The Tramvia Blau (Blue Tram) will stop operating on 29 January 2018 due to an upgrading of its infrastructure.
In the meantime, users can take bus line 196 (Pl. Kennedy - Bellesguard) as an alternative.
Sorry for any inconvenience.
Prices and discounts
Prices (2017)
Single ticket: €5,50.
Discount of the Modernisme Route
€1 discount off the price of a normal single ticket.
More information
Get the Guidebook of Barcelona Modernisme Route
The Barcelona Modernisme Route is an itinerary through the Barcelona of Gaudí, Domènech i Montaner and Puig i Cadafalch, who, together with other architects, made Barcelona the great capital of Catalan Art Nouveau. With this route you can discover impressive palaces, amazing houses, the temple that is symbol of the city and an immense hospital, as well as more popular and everyday works such as pharmacies, shops, shops, lanterns or banks. Modernisme works that show that Art Nouveau took root in Barcelona and even today is still a living art, a lived art.

The Guidebook of Barcelona Modernisme Route can be acquired in our centers of Modernisme.

<!– #main-content –>